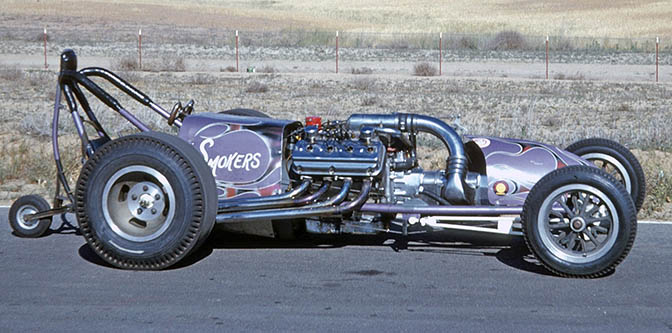 Drag racing has always been a hotbed of innovation. So many parts and pieces that set records at the track eventually found their way onto the street. Mags, slicks, superchargers—the works—all bred by competition.
Every once in a while, I like to take a step back and think about where it all began—the era before "competition-inspired" was invented. For today's look in the rearview, we're going to focus on one very wild, very purple slingshot.
This is the Hashim, Hylton & Crossley dragster. I've had the picture saved in my files since last summer, and I decided this week was the perfect time to really study it. Built in the mid-'50s, the car was constantly evolving. Although it had different configurations through the years, I like it best in this 1959 photo from Riverside.
Tube chassis. Early Palamides mags. Piecrust slicks. Hand-formed bodywork. Ernie Hashim of the Smokers was known for his work with Hemis, so naturally a Potvin-blown Chrysler made its way between the rails. For my money, there are two features that make this car stand out.
The flames. With their fades and crab claws, they look like they could be from Dean Jeffries. Part of me wants to say Von Dutch had something to do with them, but the lettering, thick pinstripes and generally chaotic look beg to differ.
The wheelie wheel. Back in 2019, I was talking to Tommy Ivo about pulling a wheelstand in his first slingshot. He told me how it would grind down the push-bar on the track surface. Looks like the Hashim, Hylton & Crossley team found a solution on their car. It was so innovative, in fact, that it was dubbed the "Five-Wheel Flyer" in the September 1959 issue of Rod Builder.
From what I've gathered, the team made quite a name for themselves both at the drags and in land speed racing. There's a lot more to say, but that's a story for another day.
—Joey Ukrop
Photo from the H.A.M.B.