Located on the west coast of the United States, in southern California, Los Angeles is a bustling metropolis with excellent transportation links and world-class venues for corporate events. Los Angeles International Airport (LAX) offers nonstop flights to over 100 destinations worldwide. In terms of transportation within the city, LA has an extensive network of buses and trains, which makes it easy for attendees to get around and explore the city during their downtime.
LA is a business epicenter for many industries, particularly the growing tech and media markets. But, when the work day is done, the city has plenty on offer to keep your attendees entertained, especially the vibrant nightlife scene, with bars, clubs, and live music venues to suit all tastes–and pristine beaches to unwind. With such a diverse population, you can enjoy top-quality food, from Korean barbecue to Mexican cuisine and everything in between.
With all this on offer, LA is an ideal city to hold all sorts of corporate events. To help you along with the planning process, here's a list of the ten best meeting rooms and corporate event venues in LA. 
What to look for when sourcing a venue
Finding the right venue involves juggling several factors. First, the venue must accommodate the right number of attendees and have suitable meeting spaces with the right equipment and facilities. The location should also have good transport links (nothing the land of Hollywood has to worry about) and sufficient parking if required.
If you're hosting a drinks reception or a conference of several days, it's important to think about food and beverage options, as well as accommodation if required. The overall cost, including any additional fees (important to keep an eye out for hidden costs), will also determine your venue hire.
The venue you ultimately pick will also be determined by the type of event you're hosting. Some of the events companies hold at corporate meeting venues might include:
Meetings with clients or customers: a meeting venue can provide a professional setting creating a positive impression and helping to build constructive relationships.
Internal meetings or training sessions: an external venue can provide a neutral location for team meetings or training sessions, supporting productive discussions and encouraging participation.
Conferencing or events: the right space can provide the facilities required for larger-scale hybrid events (you'll need fast-speed wifi) such as seminars, lectures, or product launches.
Team building activities: the ideal location for off-site training or group activities, helping to develop team cohesion and boost morale.
Let's see what Los Angeles has to offer.
Need help organizing your team event or corporate meeting?
TravelPerk's Group Travel and Meetings & Events team can help you book venues and get exclusive discounts on group travel. Schedule a demo to find out more.
1. Cooper Design Space: the perfect place in Downtown LA for trade shows, exhibitions, and photoshoots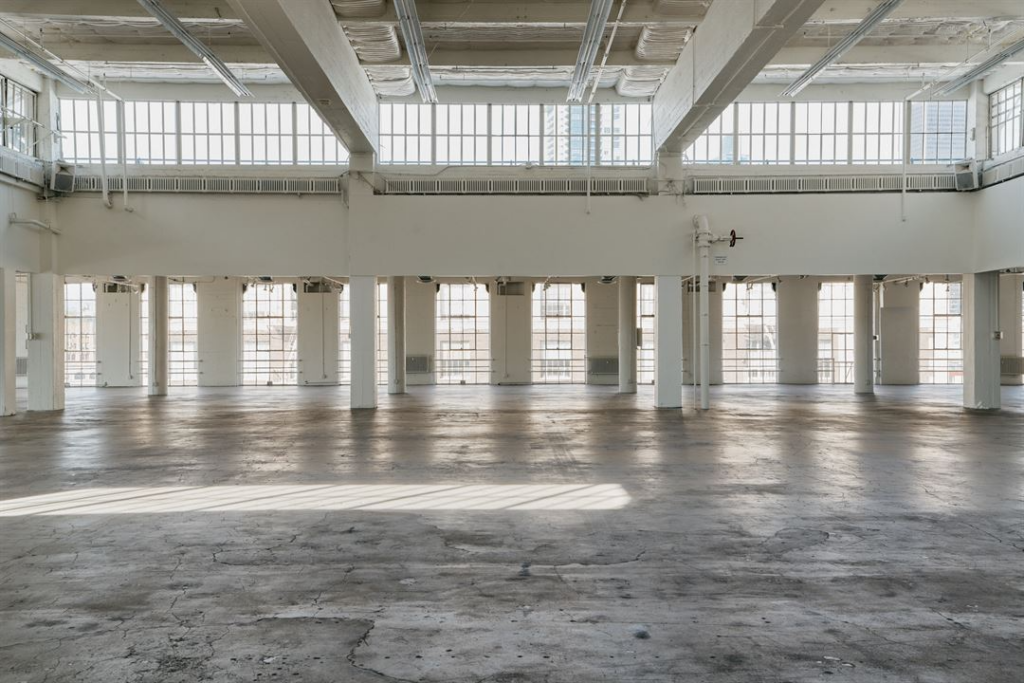 Sometimes all you need is a blank canvas, or a big space with a great location, to create the event of your dreams. That's exactly what Cooper Design Space, located in Downtown Los Angeles, brings to the table. 
With a wide space, full of natural light, it's the perfect venue to host your trade shows, exhibitions, photo shoots, private parties, or any other team-building event your heart desires. It offers downtown views, natural light, a dedicated freight elevator, HVAC, wifi, an audio system, power, and water.
Location: Downtown Los Angeles
Capacity: up to 1999
Cost: $$$$
2. The Oviatt: a fancy penthouse and rooftop deck to make the most of LA's sunny weather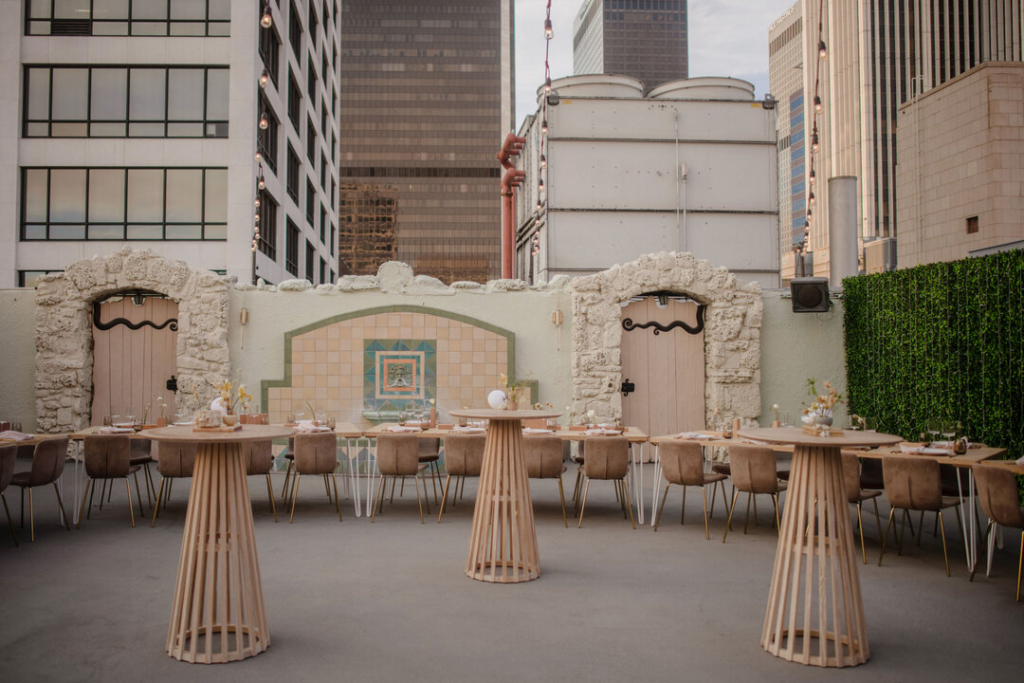 If you're looking to hold a corporate event in LA, The Oviatt penthouse is a great bet, complete with custom-made furniture, etched-glass windows, and ceiling lights imported from Paris. 
This LA venue offers 2,714 square feet of penthouse over 6 rooms, as well as 4,703 square feet of event deck spread over two levels. With LA's famously sunny weather, you can almost guarantee stunning views and ample natural light. With amenities like fast-speed wifi, valet parking, and a fully equipped kitchen and bar, your event here is sure to be the highlight. 
Location: Downtown Los Angeles
Capacity: up to 120
Cost: $$$$
3. CENTRL Office: the perfect workspace to work and chill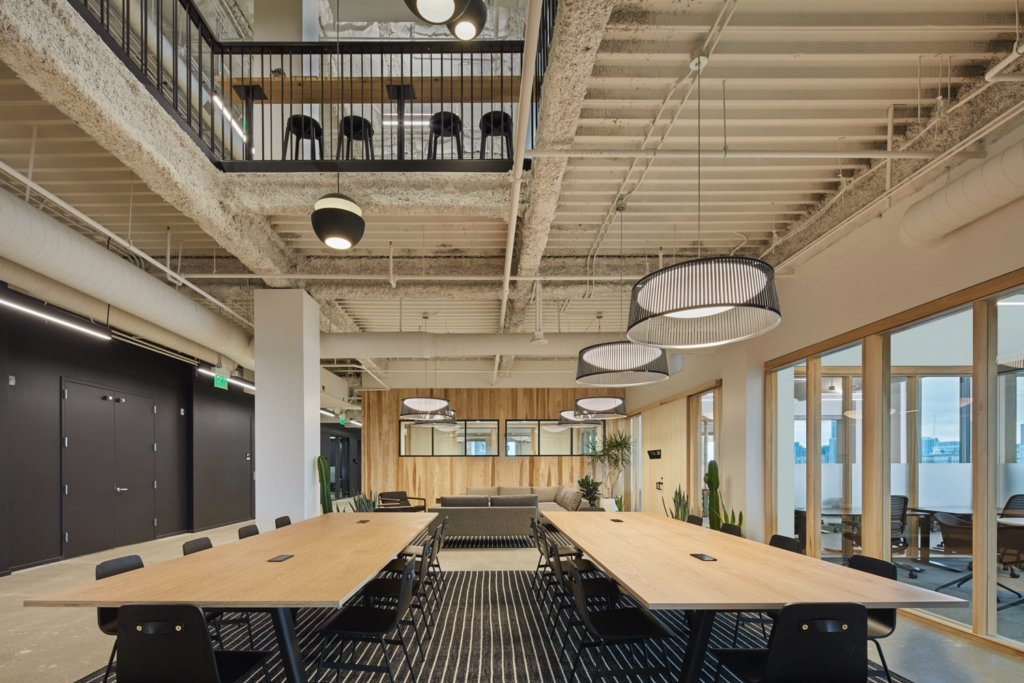 CENTRL office, located in the city center, and only a few minutes away from Little Tokyo, the Arts District, and LA's Historic Core offers a fully supplied meeting and working space for teams of all sizes. With great transport links, the space also offers onsite bike storage, parking, access to the Union Station, and several local buses within walking distance.
This coworking space and events venue is surrounded by a diverse array of locally-owned coffee and breakfast spots, top-rated restaurants, and eclectic bars–perfect for team-building after your event. 
Location: Little Tokyo
Capacity: up to 50
Cost: $$
4. Serendipity Labs Los Angeles: an ideal location to ignite your team's inspiration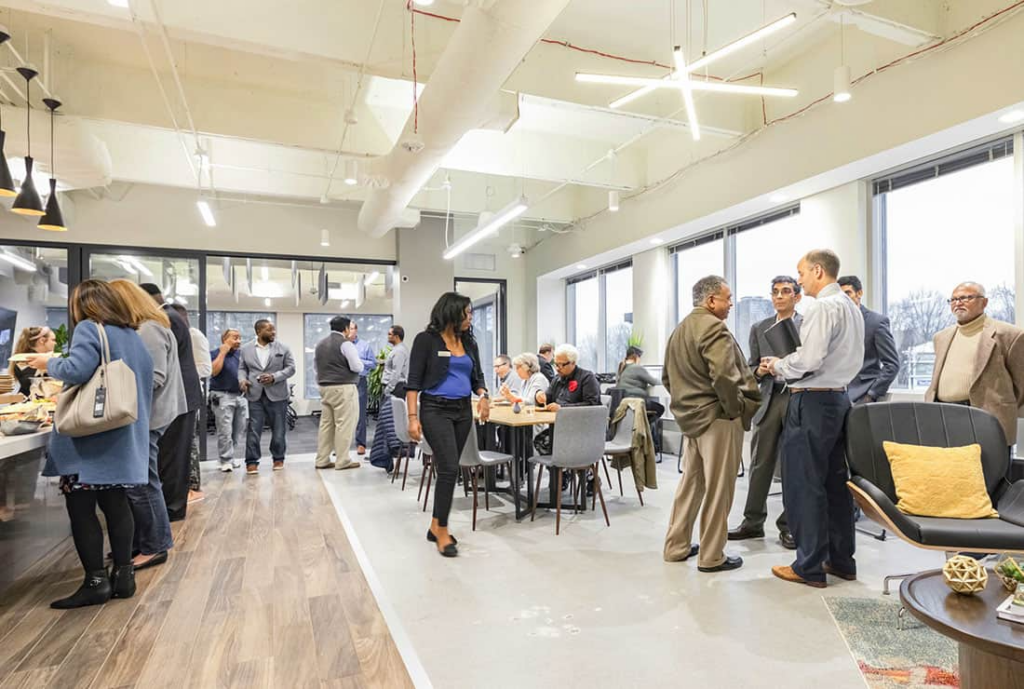 Located at the heart of Los Angeles, and within walking distance of the Museum of Contemporary Art, this meeting and event venue is great for teams of all sizes, offering smaller board rooms and visual studios, or bigger ideation studios and conference rooms. You can rent the space for a full day or just a few hours—whatever your event requires. 
Location: Downtown Los Angeles
Capacity: up to 60
Cost: $$$
5. The Ebell of Los Angeles & Wilshire Ebell Theater: a stunning courtyard to hold your next meeting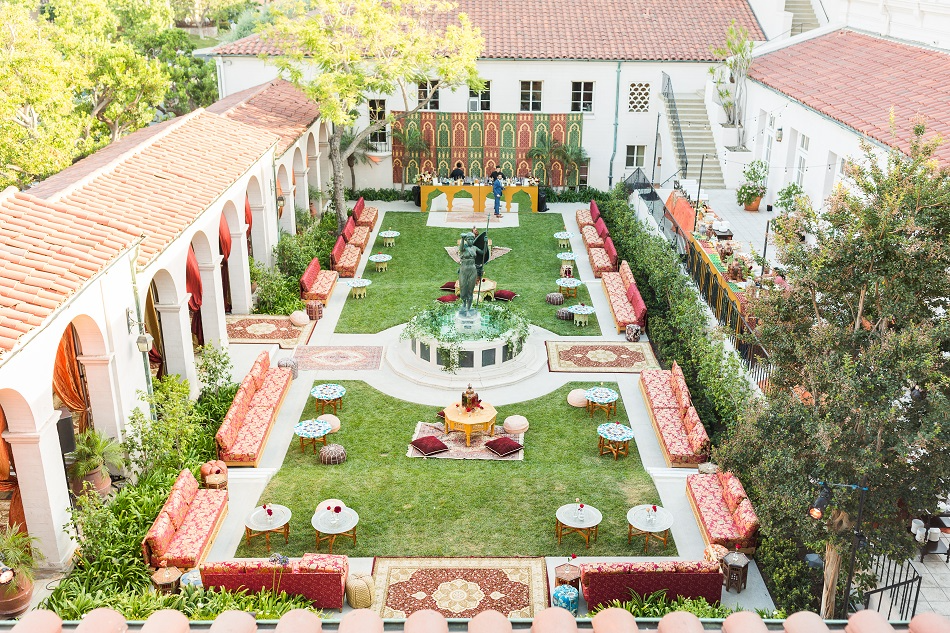 The Ebell of Los Angeles & Wilshire Ebell Theater is a stunning venue which, although it might seem like more of a wedding venue, holds multiple corporate events per year. Their outdoor event venue, combined with their architecture and amenities make it ideal for all sorts of corporate events. 
The Ebell offers two ballrooms, an art salon, a courtyard garden, and a 1200-seat Broadway-style theater, all with high-speed wifi. Located just off Wilshire Park, it's easily accessible from anywhere in Los Angeles. 
Location: Wilshire Park
Capacity: 1200+ 
Cost: $$$$
6. California Science Center: brainstorm—or celebrate—in style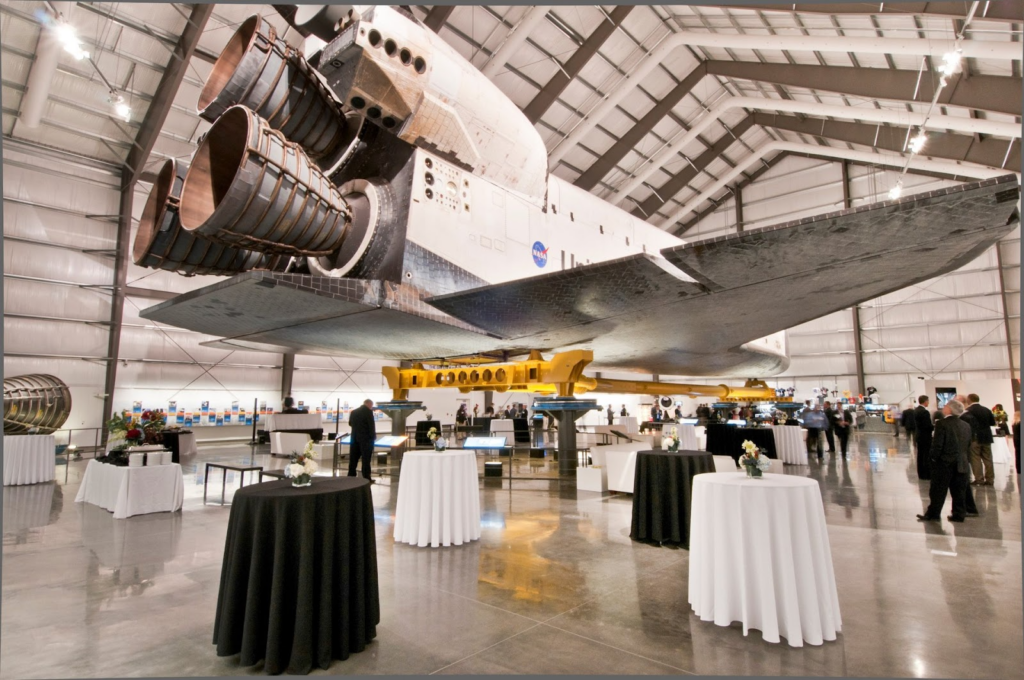 The California Science Center offers plenty of space to use as conference, meeting, or screening rooms, as well as serve as a whole convention center. With over 11 spaces for your event, you'll be able to host up to 8000 seated attendees, or up to 10000 (!) standing.
Located just off Vermont Square and right next to the University of Southern California, it's easily accessible—and will likely be familiar to many attendees! Let's just say that holding an event in the same room with a space shuttle is going to put you on the podium of the best event of the year—guaranteed. 
Location: South Los Angeles
Capacity: up to 10000
Cost: $$$
7. NeueHouse Hollywood: fill your event with pure LA vibes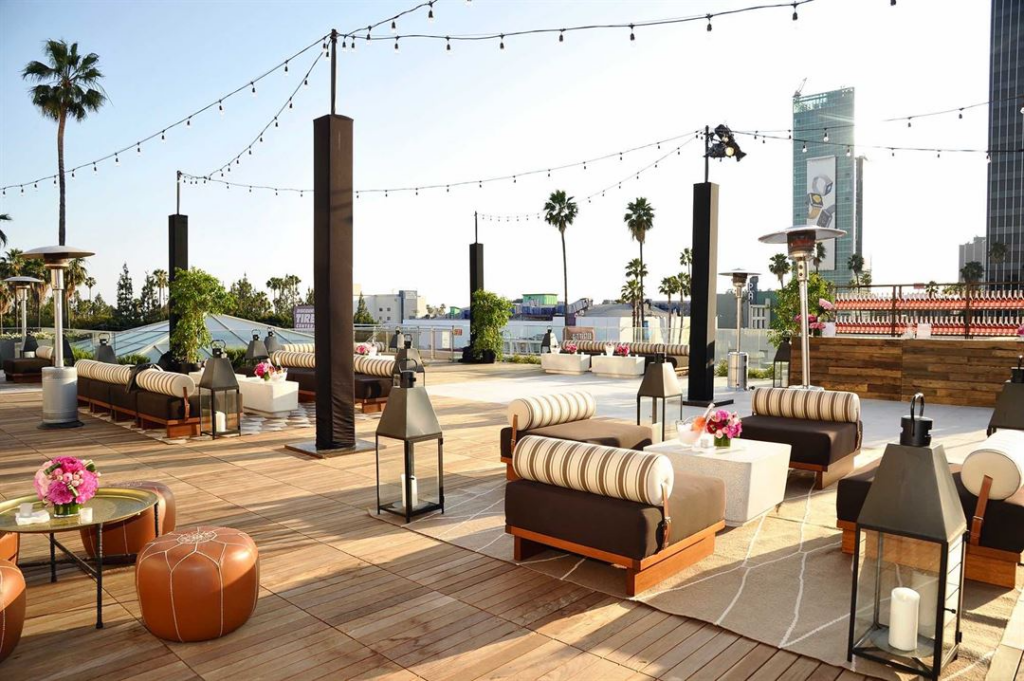 NeueHouse Hollywood is a private work and social space for creators, innovators, and thought leaders to connect and collaborate. Housed in the original CBS Studios, the venue is steeped in Hollywood history. It offers a range of creative environments, including private studios, conference rooms, screening rooms, wellness rooms, and outdoor spaces.
The venue also boasts stimulating cultural experiences in the iconic Studio A, intimate screenings, and sunset cocktails on the terrace, making it a dynamic hub to host all sorts of corporate events. Best of all, once your event is over, or during downtime, your team will be able to step outside and immediately find themselves on the iconic Sunset Boulevard. 
Location: Hollywood
Capacity: up to 1200
Cost: $$$
8. Ethos Society: a space with 360 views of LA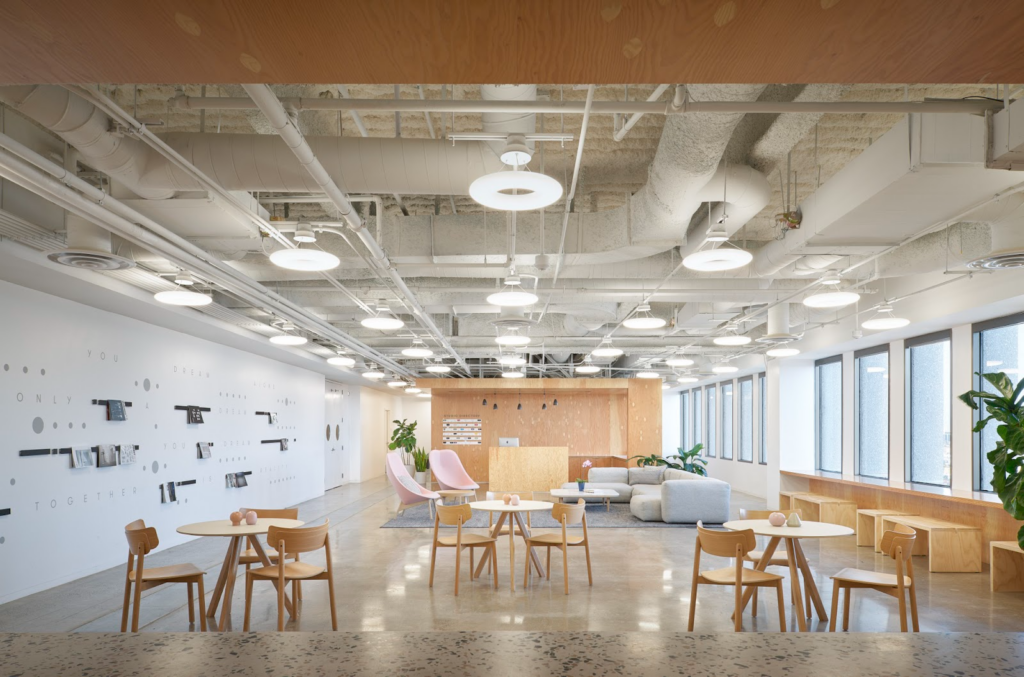 Ethos Society, located in Koreatown, gives your event 360 views of Los Angeles, including the Hollywood Hills and Downtown LA. Its fresh and new decor evokes a creative and focused mindset. The stellar views from this unique space will be the perfect backdrop for your private event.
Ethos Society is an expert at delivering top-quality experiences for special events like product launches, seminars, corporate parties, conferences, networking events, and Q&A sessions. Contact the team so they can guide you on which space is best for the specific event you're planning. 
Location: Koreatown
Capacity: up to 150
Cost: $$$
9. The East Angel: a zen heaven in the city's arts district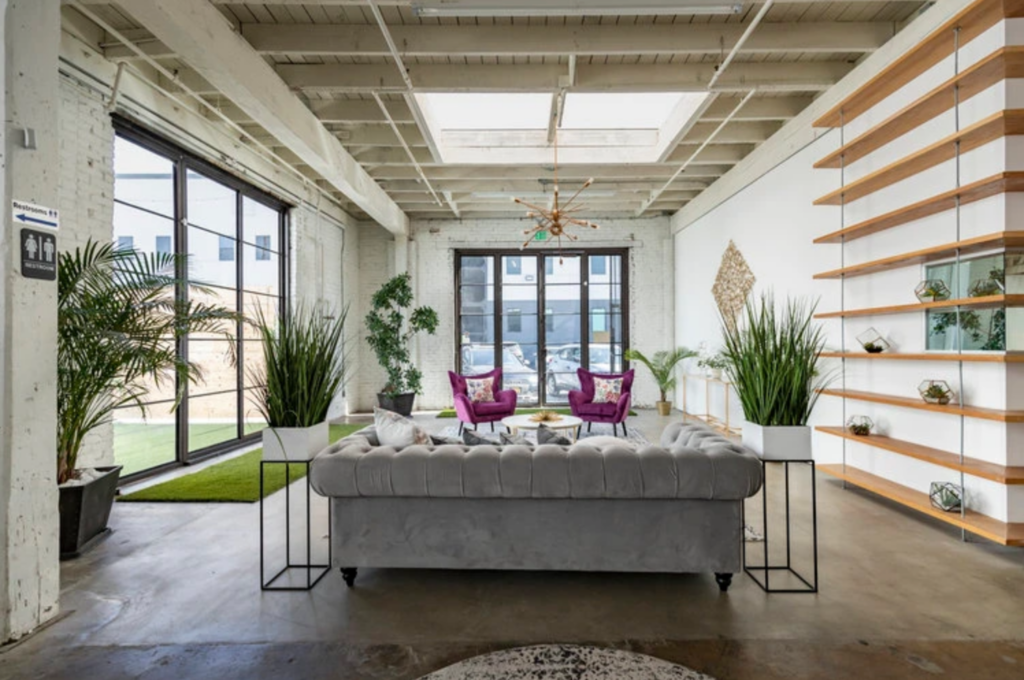 An art gallery turned events venue, the East Angel in Downtown LA is a popular rental space for corporate events with a versatile open floor plan accommodating up to 300 guests. The staff at the East Angel can assist you with creating dynamic layouts, while the location in the Arts District is ideal for meetings, conferences, and retreats.
Location: Arts District
Capacity: up to 300
Cost: $$$
10. Proper Hotel Santa Monica: the perfect venue to enjoy LA's beachside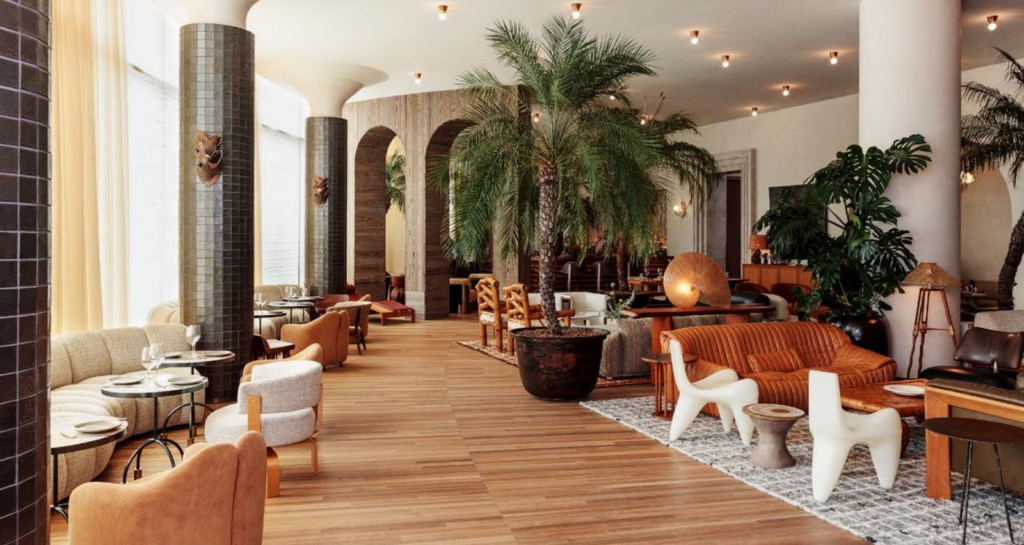 With 14 meeting rooms, a pool deck, and a spacious terrace, the Proper Hotel Santa Monica is the ideal place to hold a corporate event with a side of luxury, tranquility, and waterfront fun. They offer an executive boardroom, meeting rooms and private event spaces, video conferencing, state-of-the-art audiovisual equipment, and 24-hour multilingual staff available. 
Bring your guests and employees to this venue and they'll leave having learned, networked, and made memories for a lifetime. 
Location: Santa Monica
Capacity: up to 400
Cost: $$$
Get ahead and start organizing your corporate event today
Whatever event you're hosting, whenever you're hosting it, it's never too early to start planning—and you can use TravelPerk's event management checklist to ensure you're ticking all the boxes. 
If you feel you could benefit from support with the organizational side of things, TravelPerk can help with the book and management of your event, taking the administrative weight off your shoulders. You pick the venue, choose your favorite pair of shades and sunblock, and let TravelPerk take care of the rest!