Mitsubishi unveiled a new chapter in the brand's design direction when it launched the fourth generation of its Outlander SUV at the Dubai Autodrome last week. The seven-seater crossover has emerged with a design that further defines the family's new form factor, improved performance and a bundle of useful electronics. With curtain airbags and seat-mounted side airbags, the new Outlander underlines its concern for safety, too.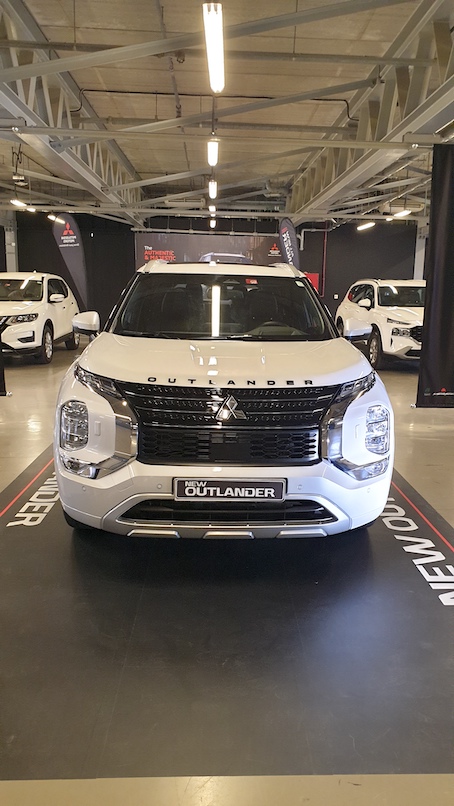 Having sold 2.6 million units worldwide, the Outlander is ready to shoulder a bit of brand-building confidently. Yutaka Yano, President at Mitsubishi Motors Middle East and Africa, said: "The all-new Outlander is a game changer for Mitsubishi Motors, with its strong product appeal and the prospect of completely reshaping customers' opinion about not only this specific model but the entire brand."
The launch Press Release describes the exterior as "confident, resilient and majestic". The broad surface lines paired up with sharp edges are complemented by 20-inch alloy wheels and overhanging fenders. The front lamp ensemble of daytime running lights and turn signals are positioned higher for pedestrians and other drivers to see it better. The external design does render it with a presence and thankfully, nothing conspicuous by its presence. Inside, it is a frugal mind that chose the materials and setting but one not without humour or taste – the orange leather wrap reveals.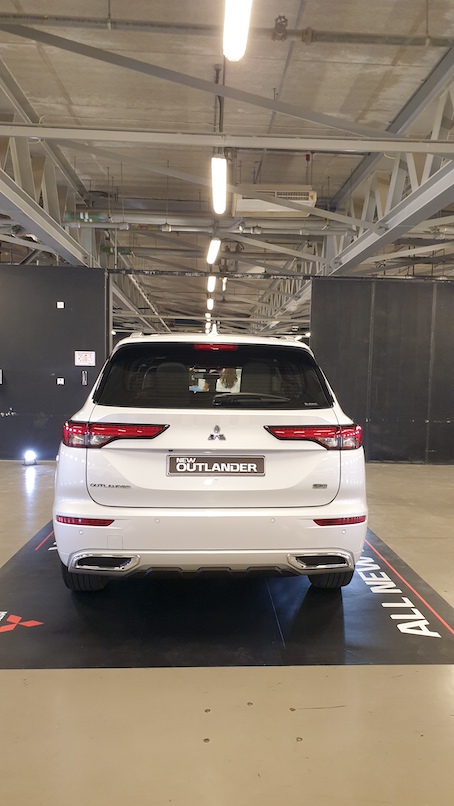 A sanctuary of comfort
The front seats have a two-layer urethane structure for comfort and less fatigue during long trips. Roominess and overall comfort are enhanced by widening the body and increasing the legroom of the first and second-row seats but that leaves the third row fit for hobbits or children. Seat heaters, 3-zone automatic climate control, and rear door sunshades are available.
The central console screen looks uncannily similar to that of Japanese rivals. Even the combination of a slider gear stalk and turn dial to choose driving modes seem to be the standard issue for almost every Japanese (and Chinese too) models. Depending on the trim, two types of screens – a 12.3-inch full digital driver display that is Mitsubishi Motors' first full-screen, full-color liquid high-definition crystal display, and a high-contrast 7-inch multi-information display showing simple arrow navigation in the central information display. A large 9-inch screen for the center display is available on specific trims equipped with a Smartphone-link Display Audio navigation system. Android Auto™ and Apple CarPlay applications connect smart phones to the car. Driving information can be read safely on their first windshield-type 10.8-inch Head-Up Display (HUD). A 10-speaker premium Bose sound system wraps up the cabin comfort.
The all-new Outlander is a 3-row 7-seat family SUV, which makes it one of its kind. The seats can be configured flexibly for passengers and luggage. Spaces for storing smartphones, 15W wireless phone charging and USB types C and A charging ports have been provided.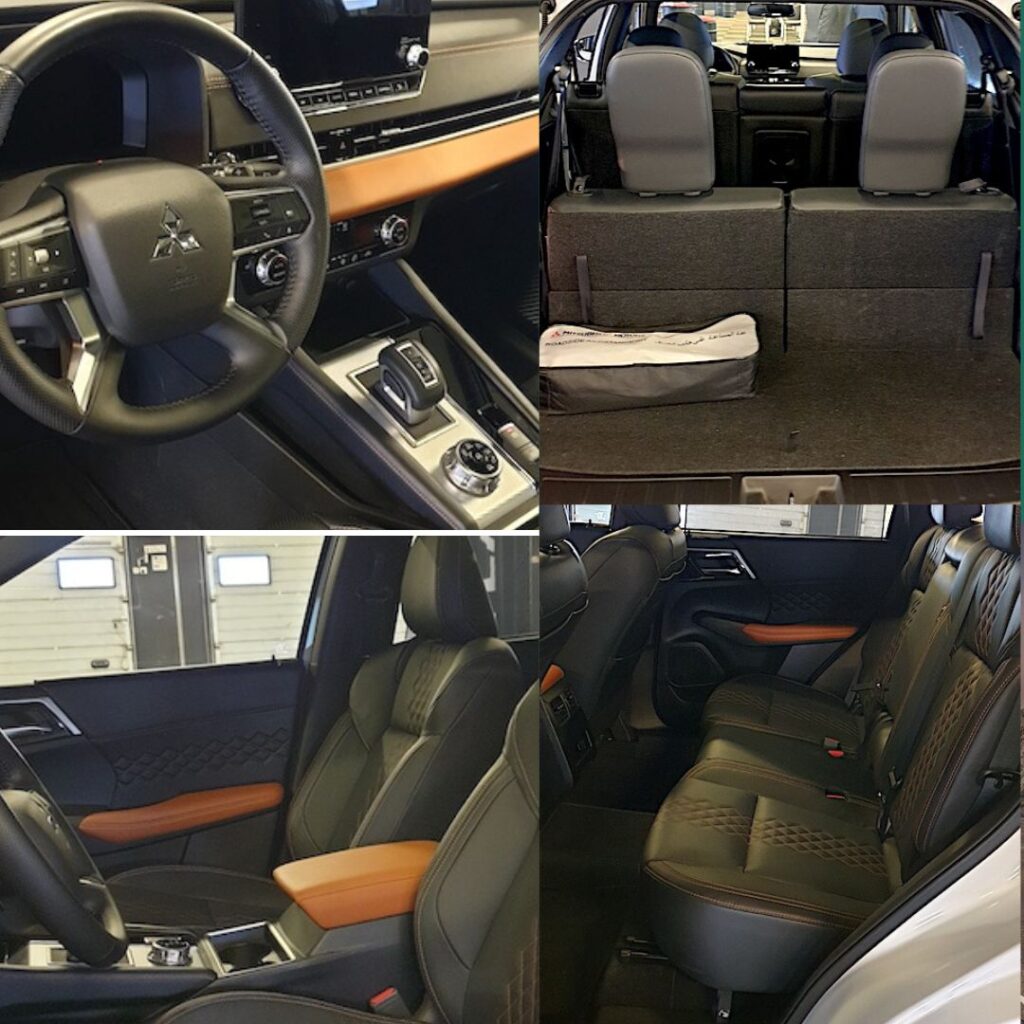 Safety: Advanced driver-assistance system and safety features
The top trim level on display shows a complete driver assistance bundle including Forward Collision Mitigation System (FCM), Adaptive Cruise Control (ACC), Lane Departure Warning (LDA), Blind Spot Warning (BSW), Lane Change Assist (LCA), Rear Cross Traffic Alert (RCTA), Driver Attention Alert (DAA), Rear Automatic Emergency Braking (Rear AEB) and Multi Around Monitor.
The front center airbag for the driver's seat and side airbags for the second-row seats are equipped as standard, and a total of 7 airbags are installed. In a side collision, the front center airbag deploys between the driver and front passenger seats. Mitsubishi Connect is installed as a car support system. On pressing a button, aid may be requested from the call center if the vehicle breaks down or is involved in an accident, and it automatically reports when an airbag is deployed. It can also generate a vehicle theft warning and report vehicle position information to the user if the vehicle is stolen.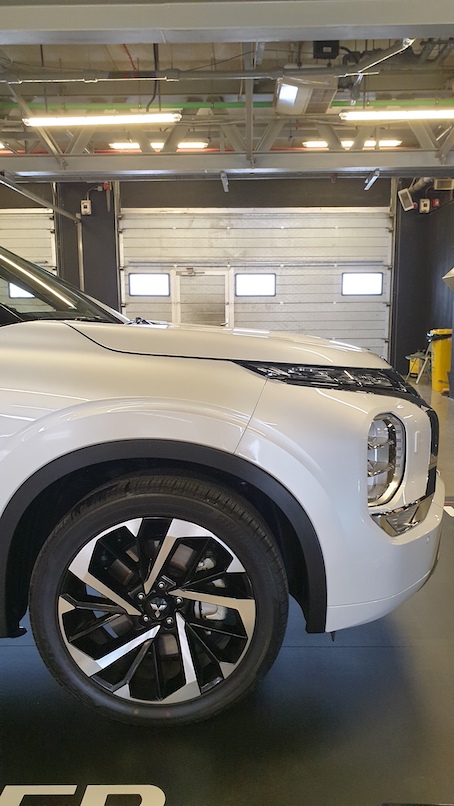 Engine and performance
The all-new Outlander flaunts a newly developed 2.5L gasoline engine with an improved power output of 181 hp at 6,000 rpm. This is 8.9% better than the previous generation. The maximum torque is 244 Nm at 3,600 rpm. Fuel efficiency at above 12 km per litre is claimed to be excellent. The continuously variable transmission comes with a 8-speed sport mode. At just above 12, it marked with excellent fuel economy.
The new Outlander has a newly developed platform for improved collision safety and greater steering stability. The multi-link suspension and dual-pinion electric power steering enhance the overall ride comfort and traceability in corners, besides making driving in a straight line more enjoyable.
The test drive was conducted on the Dubai Autodrome track. We started by thinking they must be crazy to do that. We concluded thinking pretty much the same but couldn't help observing that 181 hp seems to be an ample dose of power for every reasonable purpose – dashing down the straight in front of the Grand Stand not being one of them. It isn't a sports car but the SUV I drove was an All Wheel Drive (2 wheel drive also available). There are six drive modes for the 4WD options and five for the 2WD. The modes include 'normal' for the city, 'tarmac' for sporty driving on paved roads – what I used at the autodrome, gravel for high traction performance and stability on unpaved roads. There are 'snow' and 'mud' It has a steady way of picking up and braking without slur in the corners. The acceleration is clean and the CVT is pleasant to drive even when the power plateaus out at the end.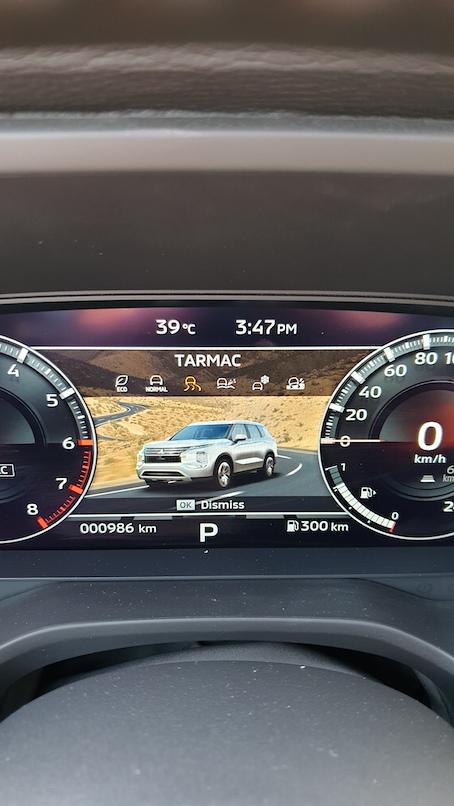 The Price
New Mitsubishi Outlander comes in 5 trim levels ranging from AED 110,000 to AED 145,000. The rivals displayed for a comparative experience at the launch were the Nissan X-Trail and the Hyundai Tucson. Compared with them, the Outlander seemed bigger but X-Trail also offers a third row seat.
The launch experience only involved driving on the track and a deeper review will be needed to comment on other functions and performance in real life.