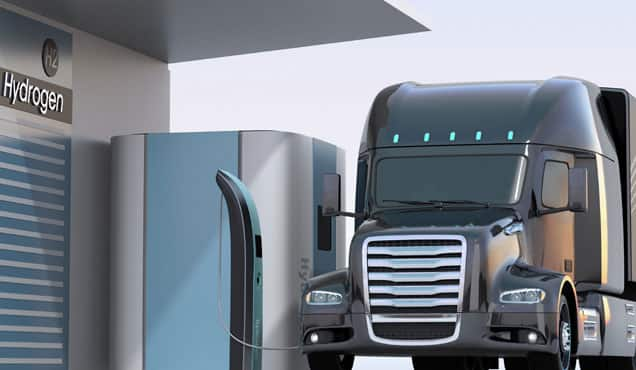 While waiting for a nationwide infrastructure to be
established, fuel-cell big-rigs seek a foothold in regional
trucking
In kicking off two CERAWeek panels regarding hydrogen
applications for transport, Edouard Tavernier, president of S&P
Global Mobility, noted that, "There are compelling applications for
hydrogen to take root."
This is especially true in hydrogen's aim as a technology for
long-haul big-rig trucks. Other Class 8 areas where hydrogen could
hold an advantage over battery-electric powertrains is with dump
trucks, garbage trucks, mining loaders, and construction
haulers—vehicles that require energy, power, and payload, said
Randy MacEwen, president and CEO of Ballard Power Systems.
Hydrogen's main advantage is a near-seamless experience to
diesel in terms of refueling, while struggles with the EV
battery-charging network have been well documented. That said,
hydrogen fuel cells are still being proven out in limited
quantities and carry an imposing price premium. The hydrogen
infrastructure is still in nascent stages, which limits potential
retail market acceptance with trucking fleets.
Until a national refueling infrastructure can be put in place,
those limitations are pushing hydrogen into the world of
regional-delivery trucks where access to fuel can be controlled and
long-term maintenance savings can defray the initial up-front hit.
This can apply to big-rigs as well as last-mile fleets.
"If you solve the infrastructure piece, the challenges go away,"
said James Kast, manager of hydrogen infrastructure for Toyota
Motor North America. "We are very close to getting to volume and
scale, but market forces are on the edge."
Big-rig manufacturer Nikola is addressing that challenge in two
directions: A battery-electric rig with a claimed 330 miles of
range, and a hydrogen fuel cell with 500 miles of range.
"Truckers make money taking a lot of load as far as they can,"
said Carey Mendes, Nikola's president of energy. "If you tell
people, 'It's going to be five years,' they will not adopt. It has
to be sooner than that."
However, it likely will take at least five years to
gain mass acceptance from trucking fleets. For the near future,
Class 8 hydrogen fuel-cell sales will be in the dozens or hundreds,
not thousands, MacEwen said. By 2030, however, MacEwen predicts 1
million hydrogen trucks will be on the world's roads.
Sharp-eyed drivers will spot hydrogen trucks on American
highways soon: "This is not a science-fiction project. These are
trucks that are real," said Michael Hoban, Chevron's general
manager of hydrogen.
To get the infrastructure picture underway, Nikola has promised
mobile refuelers and joined with HYLA to build up to 60 fixed
refueling stations by 2026. The first stations will serve trucks
operating at the adjacent ports of Long Beach and Los Angeles, and
in the inland trucking hubs of Ontario and Colton. As the ports
have decarbonization measures in place for trucks parked for
lengthy stretches of time, hydrogen might be a better solution than
battery-electric, Kast noted.
Building more hydrogen stations has its own obstacles in terms
of local permitting, said Jennifer Hamilton, co-executive director,
technical and operations, for the Hydrogen Fuel Cell Partnership.
Visions of the Hindenburg play in the heads of city council members
asked to allow a hydrogen station to be placed on the footprint of
a gasoline service station.
Amer Amer, transport chief technologist for Aramco, sees
hydrogen transport as the major barrier. In gaseous form, it can be
compressed only so much and is inefficiently transported, but when
liquified using a molecule such as ammonia to increase its density,
the destination station must expensively back-crack the elements to
restore the hydrogen to its original form.
That is why big rigs refueling at truck stops makes a better
business case, in that remote hydrogen stations can afford the
expense of a pipeline or reformer units. Truck stops also could
have fueling connectors that fill tanks more quickly and at higher
pressure than they would for passenger cars, Kast said.
The problem: The infrastructure needs to be in place first to
get long-haul truckers to invest in a new rig, Hoban said.
"Understanding the scale of hydrogen storage is pretty
sobering," Hoban said. "Getting hydrogen is an up-front (cost)
load. Everything is pushed to the front. But you don't need
additional infrastructure for every additional truck that comes
out, like you would with battery-electric charging."
MacEwen feels early Class 8 adopters will be large logistics
operators—especially ones with boards pressured by ESG
investors—such as Walmart, Amazon, and Ikea. Those operators
will favor hydrogen's range, payload, up-time, and low-maintenance
advantages. Drivers will also appreciate coming home not smelling
of fuel nor aching from diesel vibrations, Kast said.
MacEwen worries that the various bits and pieces of buying into
the hydrogen equation may be off-putting to potential fleets: "You
have to simplify the experience. It's difficult for the end
customer to bring it all together if there are different providers
for the chassis, fuel cell, and refueling process. We have to think
of the ecosystem play and simplify rather than bringing a disparate
value chain."
– By Mark Rechtin, executive editor and executive director,
S&P Global Mobility
---
This article was published by S&P Global Mobility and not by S&P Global Ratings, which is a separately managed division of S&P Global.