The Chevrolet Suburban and Ford Expedition represent the two largest and bestselling full-size SUVs on the market. They promise to do it all, haul the family and friends, tow the toys, trudge over the river and through the woods to all of that. The spacious three-row SUVs range from utilitarian workhorses to luxury land barges. 
The 2023 Ford Expedition starts cheaper than the 2023 Chevrolet Suburban, but the Suburban is so big as to outsize some suburban garages. Chevy's in-car technology advances over Ford's, but Ford uses twin-turbo V-6 engines with more power and better efficiency than Chevy's V-8 lineup. Both push price tags beyond $90,000. 
Which full-size SUV is best to buy? Here's what we think of them by category.  
2023 Chevrolet Suburban
Expedition vs. Suburban size and cargo space
Suburban maxes out with nine seats, Expedition with eight

The Suburban is 15 inches longer (3.8 inches longer than Expedition Max), with a wheelbase more than a foot longer

The Suburban has 23.2 cubic feet more cargo volume than Expedition Max with rows two and three folded flat
Both vehicles come with a bench seat that fits three smaller passengers or two adults in the third row, and an eight-seat configuration with a second-row bench or a seven-seat configuration with captain's chairs in the second row. The Suburban is larger and roomier, and has another trick up its spacious sleeve: on base LS models, owners can opt to turn the front bucket seats into a 40/20/40-split bench seat for $250. That brings the total passenger capacity to nine people, but it's mostly a marketing point more than a functional preference selected by shoppers. Still, options are good. 
That's why Ford offers a stretched version known as the Expedition Max for an extra $3,000 on most entry- and mid-grade trims. The Max expands the cargo room in the Expedition, but does not alter the passenger space.
Ford Expedition cargo room: 19.3 cubic feet behind the third row; 63.6 behind the second row; 104.6 behind the first row with second and third row folded flat

Ford Expedition Max cargo room: 34.3/79.6/121.5 cubic feet 

Chevrolet Suburban cargo room: 41.5/93.8/144.7 cubic feet
The numbers don't lie: The larger Suburban has more width, depth, and length to haul passengers and the gear for youth travel sports, or for long weekends to the lake house, as well as for small business owners and livery purposes. 
It should be no surprise that passenger space favors the Suburban, even above the Expedition Max. The narrow third row of the Expedition can't fit two adults for more than a quick, inconvenient ride, while the Suburban could, even if it's a little trickier getting in back. The Suburban has more second-row slide to make it more flexible for both rows of passengers. Here's a look at the comparative legroom in rows two and three. 
Ford Expedition and Max: second-row legroom 41.5 inches; third row 36.1

Chevrolet Suburban: 42 inches, 36.7 inches
Winner: Larger, roomier, the Chevrolet Suburban is so big it may not fit in some garages. 
2023 Ford Expedition
Suburban vs. Expedition trims and prices 
Suburbans start just under $60,000 and tip $85,000

Ford Expeditions range from $56,000 to $90,000 

Best picks: Suburban LT and Expedition XLT High
Both SUVs come well-equipped with cloth seats, power doors and locks, and smartphone compatibility, but they stick their polished noses into the luxury realm on the high end, with everything from massaging seats to adaptive suspensions. The biggest price driver is engine choice, however, and four-wheel drive adds at least $3,000 on both SUVs. At prices that flirt with $100,000, why not consider their actual luxury counterparts in the Lincoln Navigator and Cadillac Escalade?
How much is Chevy Suburban? Which Suburban should I buy?
The Suburban comes with more intuitive in-car tech that includes an 8.0-inch touchscreen with wireless Apple CarPlay and Android Auto, a satellite radio trial, a wifi hotspot, keyless start, as well as comforts such as power front seats. The Suburban LT hits the sweet spot for about $65,000. March through the RST, Premier, and Z71 trims to get to the most expensive Suburban High Country, and you'll pay about $90,000 with a few options.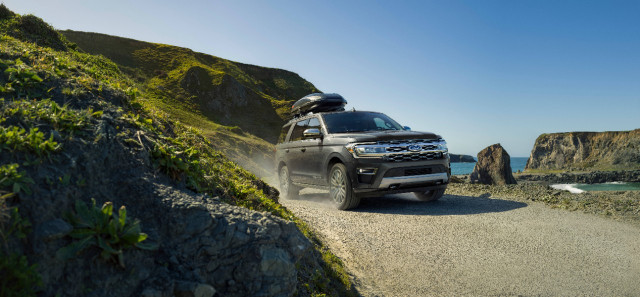 2023 Ford Expedition
How much does a Ford Expedition cost? Which Expedition should I buy?
With a base price of about $57,000, the Expedition XL STX undercuts the Suburban, but you'll need to step up to the XLT for $4,000 more to get a third row. Both the XL and XLT come with a large 12.0-inch touchscreen and cloth seats, but we recommend the XLT with the $3,795 High package for about $65,000. It adds synthetic leather upholstery, keyless start, power-adjustable front seats with driver-side memory, and a power tailgate. For $69,000 the Limited trim tempts with leather upholstery, adaptive cruise control, and a sunroof. Timberline and King Ranch models cede the highest ground to the Platinum.  
Winner: Draw; it really depends on the powertrain. 
2023 Chevrolet Suburban
Suburban vs. Expedition performance and towing
Are the Ford Expedition and Chevrolet Suburban 4WD?
Rear-wheel drive is standard, though most models can be had with four-wheel drive. Both models have a 2-speed transfer case with a Low gear that provides a lot more torque at low speeds to traverse muck or snow. Suburban Z71 models have 4WD standard and include a limited-slip rear differential, knobby off-road tires, and skid plates to beat the bush away from the pavement. The Ford Expedition Timberline edition has similar features including an inside rear wheel lock that trims the turning radius. In either case, these large vehicles must overcome size and weight as much as the terrain. 
2023 Chevrolet Suburban
How does the Chevy Suburban perform?
Base 5.3-liter V-8 makes 355 hp and 383 lb-ft, can tow 8,300 pounds (RWD)

Optional 6.2-liter V-8 makes 420 hp and 480 lb-ft, can tow 7,700 pounds (RWD)

Optional 3.0-liter turbodiesel inline-6 makes 277 hp and 460 lb-ft, can tow 8,100 pounds (RWD)
The Suburban's V-8s have evolved from the past and now pair with a twitchy 10-speed that makes it plenty quiet and plenty quick given its size. The base 5.3-liter V-8 gets the job done for most needs, but for owners who tow and log lots of highway miles, the 3.0-liter turbodiesel inline-6 has better fuel economy and towing capacity. The top dog earns his pay with impressive acceleration and a 6.2-liter V-8 that can go from thrum to stun in a beat.  
An independent suspension with available adaptive damping belies the cinder block projections of the Suburban. It rides and handles more like a crossover SUV than a body-on-frame truck, and the towing capacity exceeds 8,000 pounds.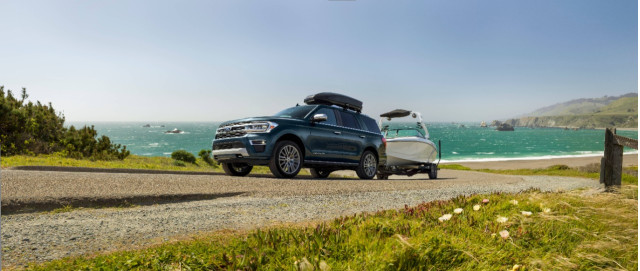 2023 Ford Expedition
How does the Ford Expedition perform?
Base twin-turbo 3.5-liter V-6 makes 380 hp, 470 lb-ft; tows up to 9,300 pounds (RWD)

Limited, King Ranch, Platinum V-6 makes 400 hp, 480 lb-ft

Optional high output version in Timberline, Stealth makes 440 hp, 510 lb-ft

Expedition Max tow rating is 9,000 in RWD and 4WD
The Expedition feels lighter on its available 22-inch wheels than the Suburban, and with the high output version of the V-6, Ford says it can go from 0-60 mph in about five seconds. That's impressive for a 5,500-pound brick. Like the Suburban, the 10-speed automatic can be indecisive in lower gears, but it'll jump down a gear or three for passing moves when cruising. It too has an independent suspension with available adaptive damping and an overall soft ride for a vehicle using a truck platform. 
Winner: Expedition.
2023 Chevrolet Suburban
Expedition vs. Suburban fuel economy
Ford's twin-turbo V-6 gets 17 mpg city, 23 highway, 19 combined; 4WD lowers it to 16/22/18 mpg

Chevy's 5.3-liter V-8 rates at 15/20/17 mpg, or 15/19/16 mpg with 4WD; the 6.2-liter gets 16 mpg combined with RWD or 4WD 

The Suburban's turbodiesel wins at 21/27/23 mpg; drop it 1 mpg for 4WD
Ford has all but ditched the V-8, except for the Mustang and one F-150 option. Instead, it relies on a twin-turbo V-6 to increase fuel economy to 19 mpg combined while also improving output. 
GM adds cylinder deactivation to its V-8s that can cut off fuel to all but two cylinders when cruising to conserve fuel. The 6.2-liter V-8 has an EPA rating of 16 mpg in any configuration, which is the same as the 5.3-liter with 4WD. The extra grunt for no real fuel economy penalty makes it even more appealing, but it also costs anywhere from $2,500 to $8,600 more, depending on the trim. The turbodiesel is ideal for drivers who log mostly highway miles, and Chevy has priced it to sell it, with an upcharge of only $900 to $1,500 over the base V-8. If only diesel were the same price as gas, it'd take less than two years for the fuel savings to offset the upcharge. 
Winner: Expedition, with exception noted for Chevy's turbodiesel
2023 Ford Expedition
2023 Ford Expedition
2022 Chevrolet Suburban 4WD Premier
2022 Chevrolet Suburban 4WD Premier
Suburban vs. Expedition exterior and interior
Blacked-out trim packages give them both Secret Service duty

Expedition interior is busier than the Suburban

Top Expedition Platinum and Suburban High Country trims bleed luxury
Is the Ford Expedition a good-looking SUV?
The Expedition blends in more than the Suburban, beside different grilles and wheel sizes ranging from 17-22 inches. The trims offer different personalities, with a chrome bedazzled Limited, a rugged Timberline with off-road upgrades, a western-themed King Ranch, and a ritzy Platinum. Dress the inside up however you like, the Expedition could be mistaken for an F-150 inside, replete with a dual glovebox. A standard 12.0-inch touchscreen centers the dash, flanked by blocky vents and underlined by traditional climate dials and knobs. 
Is the Chevrolet Suburban a good-looking vehicle?
The Suburban fits like a sport jacket on a body builder: it bulges in most places. It borrows the steep, flat brow of the Silverado, and blacked-out RST and high-riding ZL1 specs give it some added character. The interior is less in your face, but its pushbutton shifter mounted on the dash feels too diminutive for this sized vehicle. With its sole glove box, it's a little more orderly and calmer than the Expedition. The related GMC Yukon XL has an even dressier black-on-black interior. 
Winner: Beauty is in the eye of the big loaders. 
2023 Chevrolet Suburban
Suburban vs. Expedition safety
Super Cruise is super

Physics benefits them both, at the expense of others

Expedition is safer than the Suburban, per the NHTSA
The Suburban and Expedition both carry standard automatic emergency braking, active lane control, and automatic high beams. Ford adds blind-spot monitors as standard. It has another key advantage: a five-star safety rating from the NHTSA. The Suburban has only four stars due to an increased risk of rollover crashes. 
The Suburban gets one back for its superior hands-free driving system, Super Cruise. It enables hands-free driving on more than 400,000 miles of limited access highways in North America, and it can automatically lane change around slower vehicles. Ford's BlueCruise is capable, but less sophisticated.
Winner: Ford Expedition.
Winner: Ford Expedition
Either large SUV remains a strong choice for any driver that needs lots of passenger and cargo space and lots of tow capacity. Bigger and bolder, the 2023 Chevrolet Suburban earns a TCC Rating of 6.2 out of 10, but its safety rating is the big thing holding it down from the 2023 Ford Expedition's TCC Rating of 6.7 out of 10. (Read more about how we rate cars.) If size matters most, the Suburban has the blocky edge.