Retail advertised inventory – the availability of vehicles as
communicated by dealerships across the country – has been on the
rise from July 2022 until mid-March 2023. However, based on
month-end April data, S&P Global Mobility's Advertised Dealer
Inventory analysis shows that inventory recovery will remain
erratic and spiky for the near term, depending on the brand and
segment.
The key takeaway on the new-vehicle purchase front for
consumers: The percentage of vehicles offered below MSRP has risen
as advertised inventory count increased. Meanwhile, the percentage
offered at sticker price has fallen and the percentage offered
above MSRP has remained basically stable.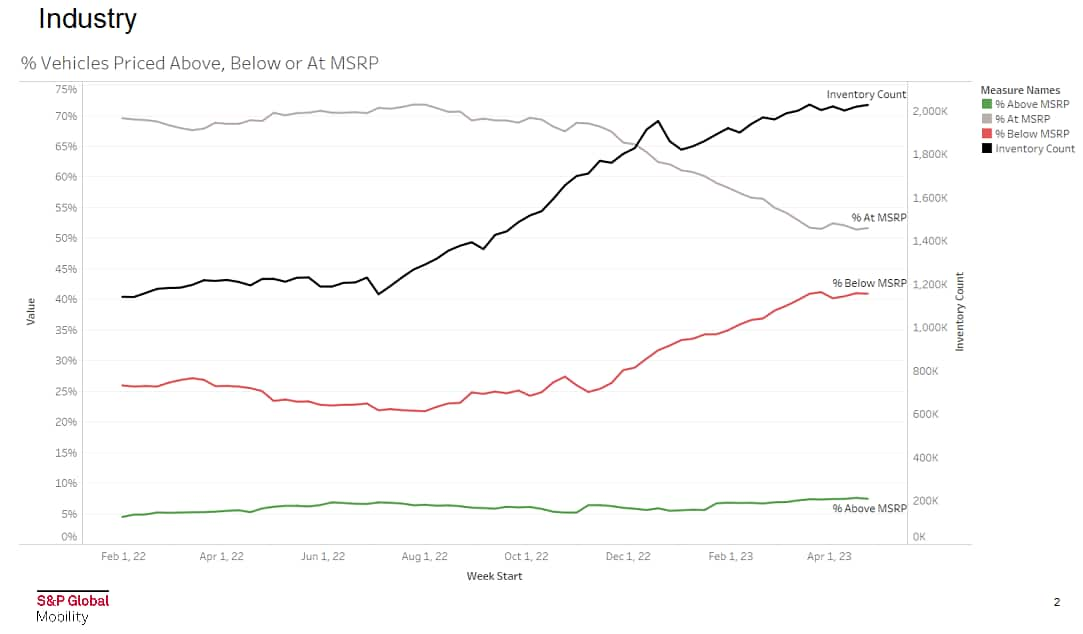 The pace of advertised inventory growth of domestic brands is
slowing. Domestic advertised inventory rose by single digits (on an
annualized basis) in the last month, and growth slowed through the
quarter. By comparison, it grew by 25% in the last six months
overall.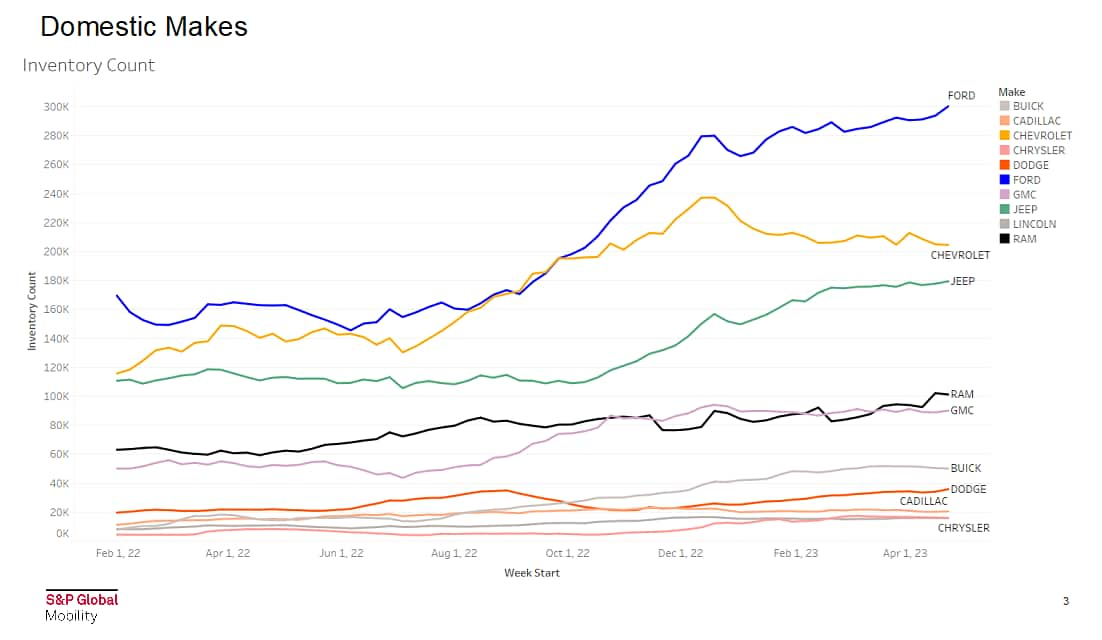 Meanwhile, Asian makes continue to struggle to gain inventory
count on dealership lots. Since the new year, volume leader Toyota
has kept on pace to have advertised inventories equivalent to one
month's pre-pandemic sales. Honda, Nissan, and Hyundai all have
roughly the same advertised dealer inventories.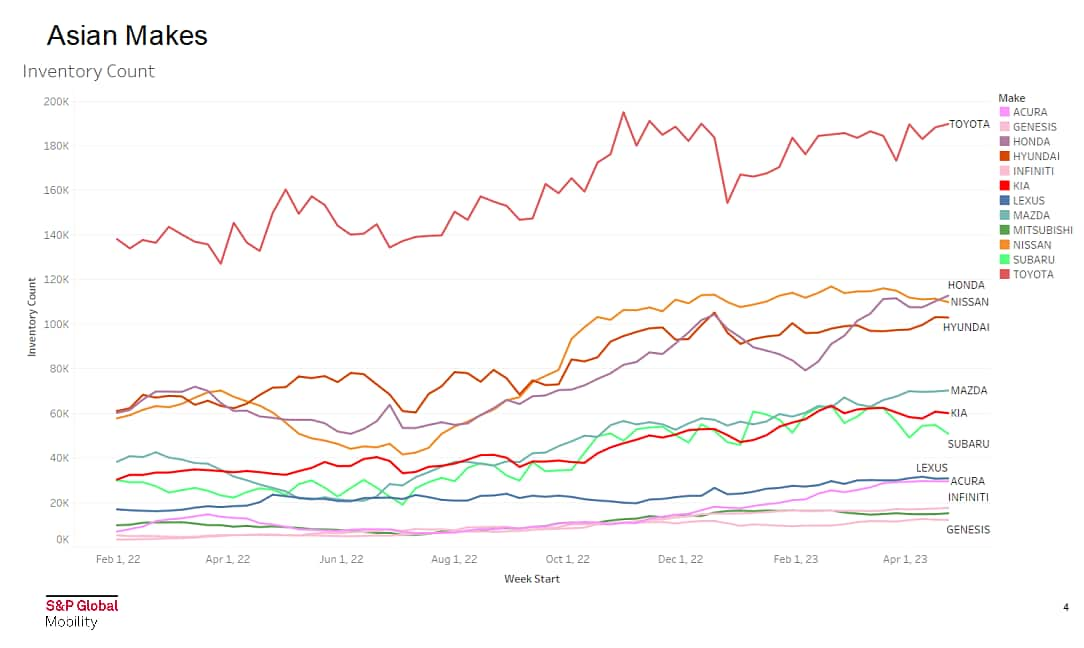 European brand advertised inventory actually shrank in the last
month and was flat in the last quarter. That masked wide
disparities among individual automakers, however. Volkswagen
advertised inventory spiked by 16% in the last quarter, while BMW
advertised inventory dropped by 22%, for example. The same erratic
trends continued in the last month.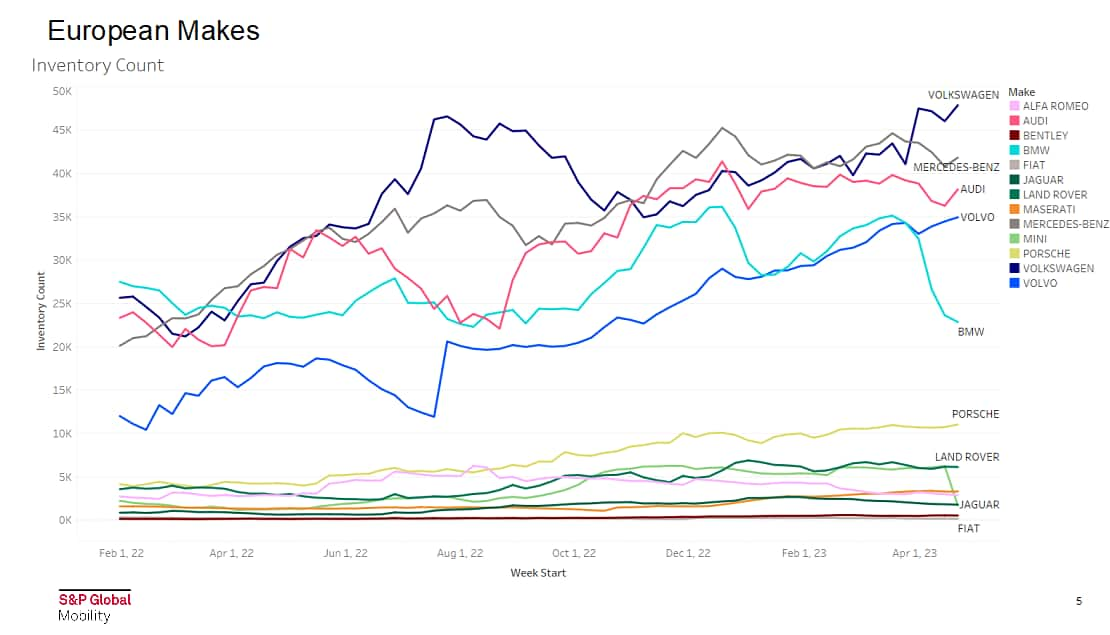 Taking a look at BMW specifically, individual model inventory
has fluctuated greatly over the last half year. The 5 Series
advertised inventory rose in the last quarter of 2022, then
remained constant. The high-volume X3, X5, and 3 Series saw
advertised inventory decrease sharply late last year and early this
year. The X5 has seen the most fluctuation.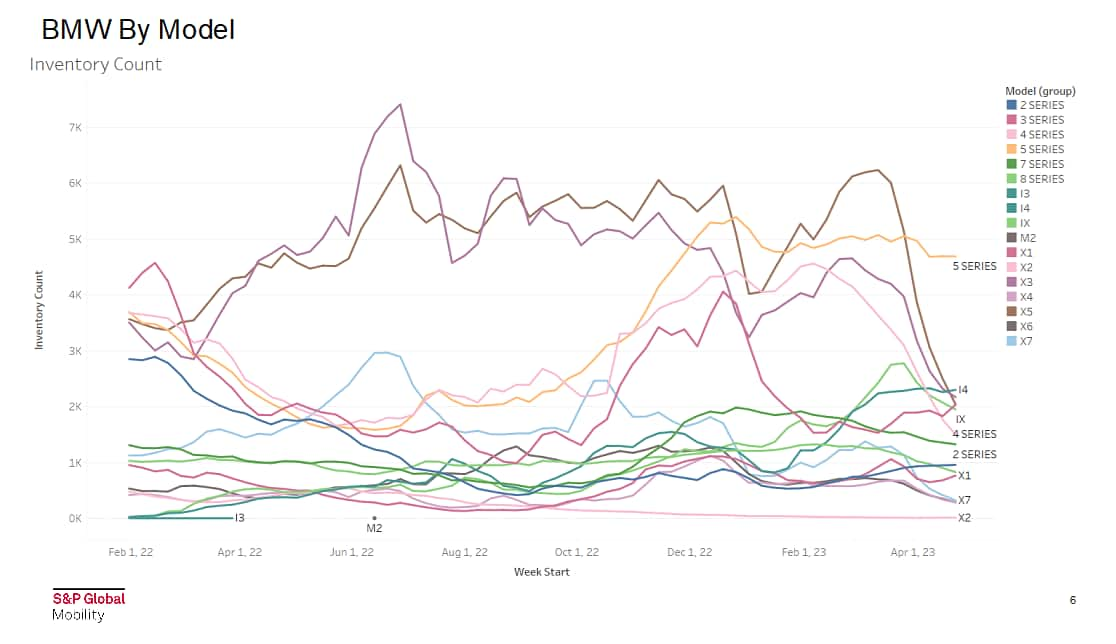 Moving to half-ton pickups, Ford, Chevrolet, and Ram trucks
were, on average, advertised below MSRP from February 2022 to April
2023, while the Toyota Tundra was advertised above MSRP for that
entire period.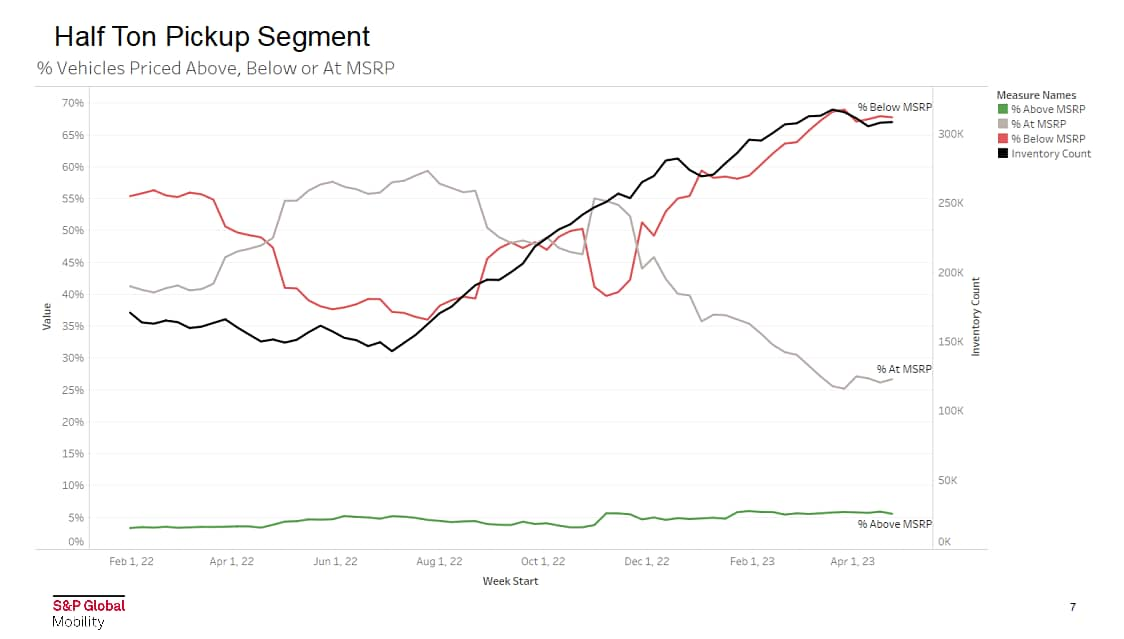 In this hyper-competitive full-size segment, Ram has
consistently seen the greatest advertised discounts from MSRP,
although other domestic truck brands are more recently engaging in
a race to that discount level.
Ford's F-Series advertised inventory increased sharply beginning
late Sept 2022 from around 47,000 units to 110,000 in April 2023.
Part of the increase can be assigned to post-build trucks parked in
giant lots awaiting essential final parts before finally being
allocated to dealers.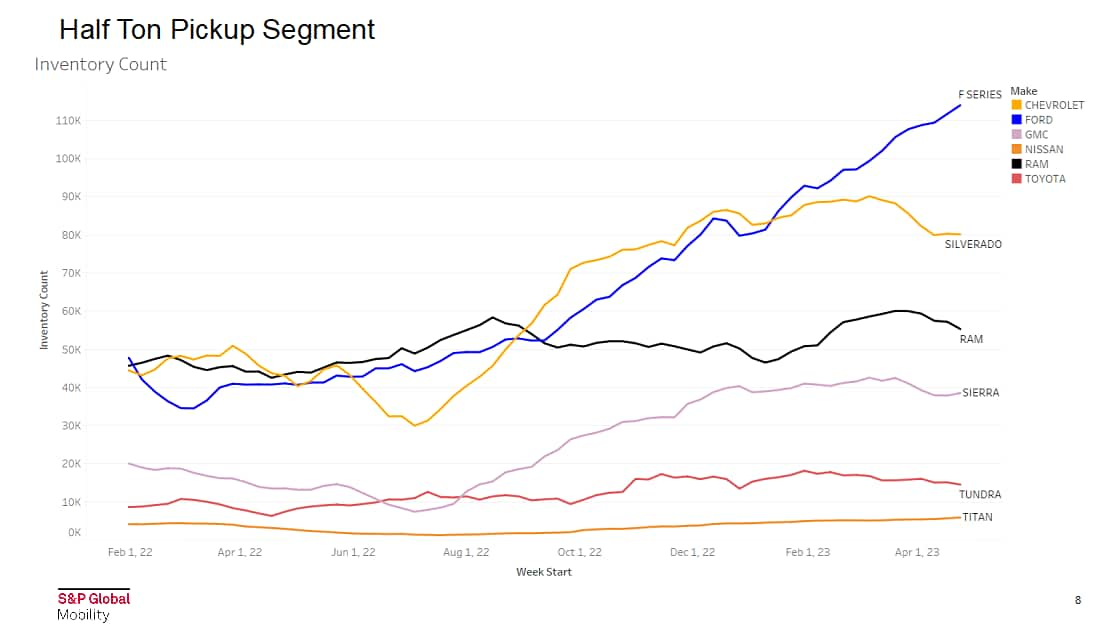 But while the advertised dealer inventory unit count of
Chevrolet Silverado has climbed and Ram full-size pickups have
remained steady, the sharp increase of F-150 unit count means Chevy
and Ram share of half-ton pickup inventory has fallen off and not
recovered since late summer. Only the GMC Sierra has matched the
F-150s pace of share increase.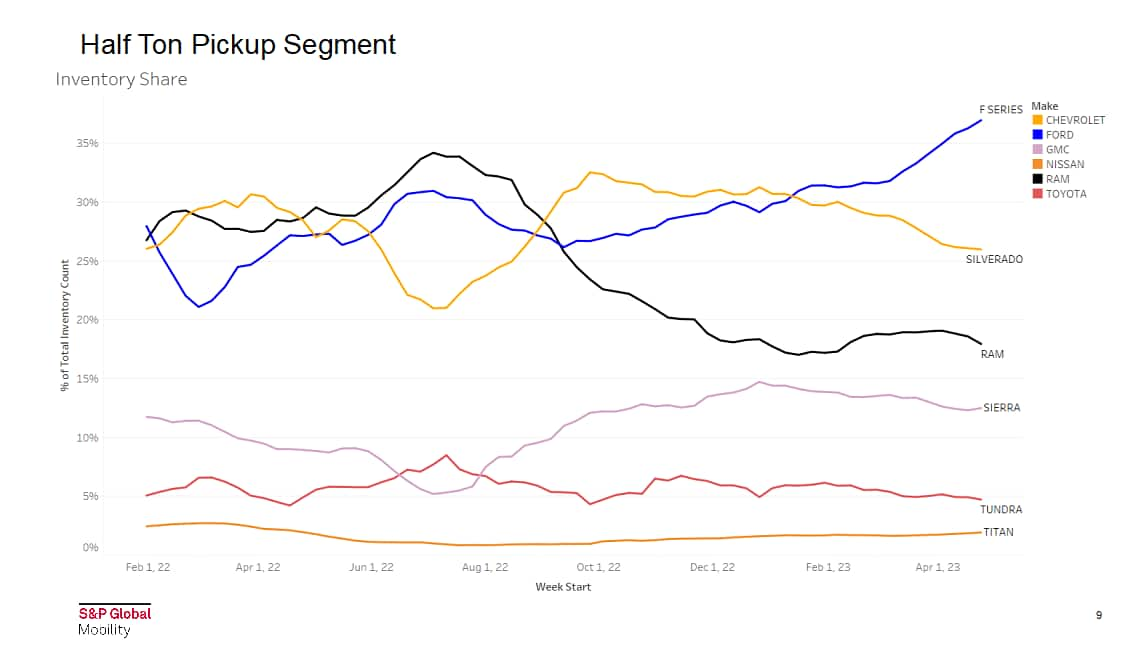 Battery-electric and hybrid-electric vehicle advertised
inventory tripled from February 2022 to early April 2023 to some
300,000 units, a faster rate of increase than advertised
inventories of pure internal-combustion vehicles. That said, the
amount of xEV inventory remains in line with current market share
percentages for BEVs and hybrids.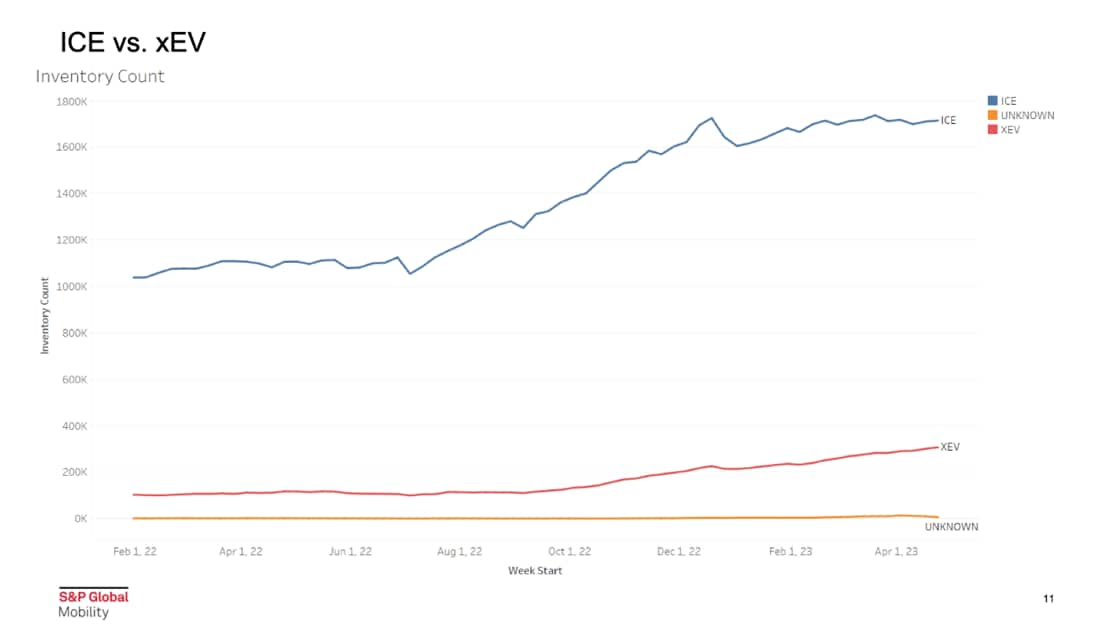 As the industry continues to replenish its inventory, there will
be knock-on effects in terms of pricing and incentives. S&P
Global Mobility analysts foresee the stabilizing of inventory,
combined with economic headwinds facing consumers, to create
a more traditional retail environment in 2023 with OEMs once
again battling for market share.
---
This article was published by S&P Global Mobility and not by S&P Global Ratings, which is a separately managed division of S&P Global.